This is a listing of different patterns either commonly found in notecharts or are popular themselves in the notecharts.
This article or section is incomplete and may require expansion and/or cleanup.
Please improve the article, or discuss the issue on the talk page.
Ladder
A basic ladder pattern.
A
ladder
is a pattern that goes across the note area.
Rapids or a machine gun is a pattern wherein the notes are arranged in a line on a single column. They are usually spaced at sixteenths of a measure.
To mash is to press a button or buttons blindly to get the notes right. Mash also refers to the pattern in which a player would be required to mash. A mash is generally combined rapids.
The Huk mash
Edit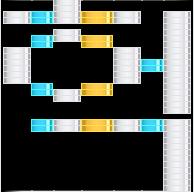 The Huk (Korean: 헉, lit. "hug", IPA:/hak/) mash[1] is a pattern found in the Identity series[2] by SHK. It is a pattern that visually spells out the Korean word "헉".
The mash has 77 notes in a measure and can be found in every hard difficulty of
Identity series
(except
[SHD]~-start-5-stop Identity part III
(Normal difficulty) which has 1 and
Identity part III
which has none). In SHD Identity part III (Hard difficulty), the mash can be found twice: first the original near the beginning, and the new one which has 133 notes in a measure (almost twice as dense as the original) near the end.
↑ The Korean "헉" is romanized as hak, however the mash is popularized as huk.
↑

The "헉" mash is not seen only in Identity part III.
Ad blocker interference detected!
Wikia is a free-to-use site that makes money from advertising. We have a modified experience for viewers using ad blockers

Wikia is not accessible if you've made further modifications. Remove the custom ad blocker rule(s) and the page will load as expected.