Mesata Kir (Korean: 메사타 키르, IPA: /mesata kʰilɯ/, romanized "mesata kireu") is a fictional character in O2Jam.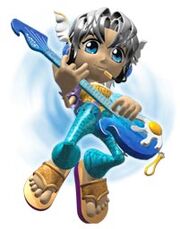 Kir has been a music maniac since he was a child. His room was always full of instruments and he was totally in love with writing and playing music. No one could ever separate him from his music, music was more than a part of his life. One day, the battle with the Ohms commenced and his father, Count Masata who was also a commander of the Crush Forces escaped with him and his family. Because his father ran instead of doing his duty, the people of Crush began hating their family. Kir was embarrassed and crushed by the fact that his own father was a coward. When he heard of the Muracle Rangers, he immediately enlisted. While he was disappointed with his father's actions he was determined to prove himself and wipe that disgrace from his family.[1]
References
Edit
Ad blocker interference detected!
Wikia is a free-to-use site that makes money from advertising. We have a modified experience for viewers using ad blockers

Wikia is not accessible if you've made further modifications. Remove the custom ad blocker rule(s) and the page will load as expected.