| | | | | | | |
| --- | --- | --- | --- | --- | --- | --- |
| 171 | 172 | 173 | 174 | 175 | 176 | 177 |
Christmas Memories is a song in O2Jam.
There is a remake in O2Jam U and Analog, which was remade by Warak.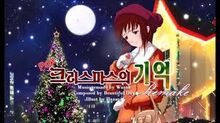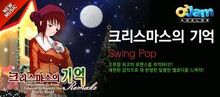 하얀 눈이 쌓여 가는 거리에 
지난 겨울 헤어졌던 너를 생각해 
아마도 지금쯤 누군가 니 곁에 함께 하겠지 
새하얀 This snowy Christmas day

(hayan nun-i ssah-yeoganeun geolie jinan gyeoul heeojyeossdeon neoleul saeng-gaghae amado jigeum jjeum nugunga ni gyeot-e hamkke hagessji saehayan This snowy Christmas day)

하얀 눈을 맞으며 너와 함께 걸으며 
함께 했던 지난 겨울 다시 
돌아올 순 없지만 
너무 행복했었던 지난 겨울 내 맘 속에 간직하고 싶어 
하얀 눈이 녹을 때까지 

(hayan nun-eul maj-eumyeo neowa hamkke geol-eumyeo hamkkehaessdeon jinan gyeoul dasi dol-aol sun eobsjiman neomu haengbog haess-eossdeon jinan gyeoul nae mam sog-e ganjighago sip-eo hayan nun-i nog-eul ttaekkaji)

Hold my christmas Memories! 
간직하고 싶은 그대 
이 겨울에 오직 너만 하얀 내 맘에 
간직할게 
Christmas day 
너만을 간직할게 Christmas day 
영원히 간직할게 Christmas day

(Hold my Christmas Memories!
ganjighago sip-eun geudaei
gyeoul-e ojig neoman hayan nae mam-e
ganjig halge Christmas day
neoman-eul ganjig halge Christmas day
yeong-wonhi ganjig halge Christmas day)
English translation
Edit
The streets are filled with snow as i think about you and last years winter--the day you left me.

Probably someone's beside you right now, 
Spending your Snowy Christmas Day. 

It's impossible to bring our past here in the present:we were walking together... snow falling to us...  

I wanna cherish the happiest winter I've ever experienced,

Until the snow melts

Hold my Christmas Memories, I really wanna cherish that.

I'll spend this winter by remembering our past, and cherish it--The Christmas Day,

I'll cherish you this Christmas Day,

Forever I will cherish that Christmas Day.