| | | | | | | |
| --- | --- | --- | --- | --- | --- | --- |
| 100 | 101 | 102 | 934 | 935 | 940 | 942 |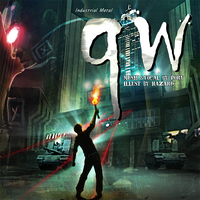 Music&Vocal by Pory.
Genre:Industrial
아직도 꼼짝 않고 그대로 있지 어차피 세상 따윈 변치 않아
지금도 상황파악 못하고 계셔, 어차피 너는 니가 짱이니까
세상이 벼랑 끝에 떨어진대도 아둔한 넌 바라볼 뿐이야
미래를 보지 못한 미련한 니가 이제와서 후회한다 해도
세상이 처참하게 썩어가는 걸 혼자서 방관하며 회피할 뿐
시커먼 속마음에 부패한 정신 그것이 진짜 네가 아니었나
Wow
아직도 기본적인 개념이 없어 어차피 아무도 모르니까
지금도 남탓하기 바쁘시군요 어차피 너는 니가 짱이니까
세상이 벼랑 끝에 떨어진대도 아둔한 넌 바라볼 뿐이야
시커먼 속마음에 부패한 정신 그것이 진짜 네가 아니었나
세상이 벼랑 끝에 떨어진대도 아둔한 넌 바라볼 뿐이야
미래를 보지 못한 미련한 니가 이제와서 후회한다 해도
세상이 처참하게 썩어가는 걸 혼자서 방관하며 회피할 뿐
시커먼 속마음에 부패한 정신 그것이 진짜 네가 아니었나
Official Release
Edit
O2Jam Online (Original Soundtrack) in iTunes
porysmail's blog (need inspector to play this song)
Ad blocker interference detected!
Wikia is a free-to-use site that makes money from advertising. We have a modified experience for viewers using ad blockers

Wikia is not accessible if you've made further modifications. Remove the custom ad blocker rule(s) and the page will load as expected.